Regular price
£86.40 GBP
Sale price
£59.99 GBP
Unit price
per
Sale
Sold out
Share
View full details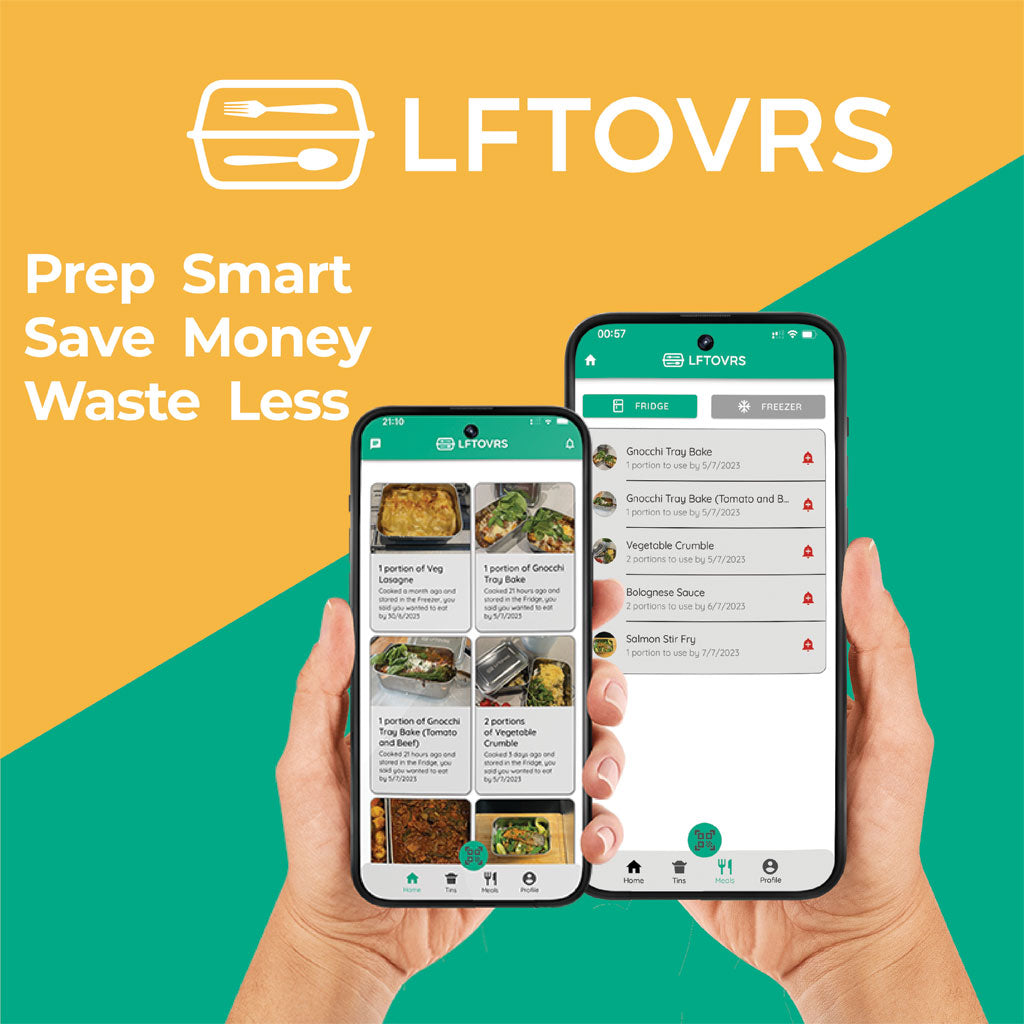 This bundle of 5 x 850ml 304 Stainless Steel Food Containers also includes 5 x dividers. This will get you started with Lft Ovrs as cost effectively as possible! This range of containers are slightly thinner than our Premium range... But don't worry, the product will still be just as durable and is less expensive when you buy a bundle of containers together!
Overview
Easy to clean.
Cook and reheat meals in this tin.
Store food in the fridge and freezer.
 

BPA and Plastic Free.
Food Grade 304 Stainless Steel.
Built to last.
Eco Friendly - 100% Recyclable Metal.
Link with our free mobile app to help reduce food waste.
Detailed Description
This bundle includes 5 x 850ml 304 Stainless Steel Food Containers and 5 dividers. The metal used for these product is 400 microns thick (0.4mm). This is slightly thinner than our other products, it is just as durable and looks just as great... but you can purchase a great value bundle to start tracking your Lft Ovrs as cost effectively as possible.
850ml is large enough for a large lunch or dinner portion of leftovers or 3 large chicken breasts. As with all our containers, it has a QR Code. You will notice it is on the lid in some of the pictures; we have moved it from the lid to the side of the container on our budget All Stainless containers (we will update the images ASAP to remove any confusion). The QR Code allows you to track your meals in our Mobile App just like with the Premium All Stainless Range.
The product is durable, free from nasty plastics that can leach into food and it can be used in all the usual places; including the oven and dishwasher. Although don't put the silicone seal in the oven.
This container has small clasps to keep the lid in place and the silicone seal will ensure there are no leaks. We are confident this will prevent leaks in 99% of situations, it does not seal quite as well as our Premium range which will always be leak proof. As this is a more budget friendly version of the container it doesn't feel as heavy as the Premium range.
Keep your eye on our Blog for the latest news and follow us on Instagram for EXCLUSIVE offers @Lft.Ovrs
Care
Lft Ovrs provide premium quality food storage solutions which are ideal for use as a lunchbox or for your Lft Ovrs. Our containers come with a 2 year guarantee and when you decide you are finished with this it can be recycled.
Simply wash by hand or in the dishwasher, do not use any abrasives on the Logo and QR Code as this may damage it and reduce its life.
Please be careful when using this in the oven as it will be hot.
Specification
Size: 17cm x 12cm x 6cm
Capacity: 850ml
Weight: 232g
There is more information available in our FAQ section. If you have any further questions please contact us we won't bite and will reply quickly via WhatsApp, Facebook, or Email.